Since 1995 CCPC members have been contributing towards education for primary and secondary students in Shikokho, Kenya through the Gifts of Hope Alternative Christmas Market. History of Contributions for Scholarships

1995 = $ 360.00
1996 = $ 953.00
1997 = $1260.00
1998 = $2965.00
1999 = $1840.00
2000 = $4102.00
2001 = $3295.00
2002 = $4780.00


Providing Textbooks for the Secondary School

In Shikokho, most students' school fees are covered, but families are responsible for school supplies, including textbooks. But money for textbooks is out of the question. Consequently many students arrive at school early to copy the day's texts from the blackboard. Needless to say, this method of learning is burdensome and inefficient for both students and teachers. Two years ago, professor Andrew Miller, a former headmaster at the school, and frequent visitor to Shikokho, outlined the need for new textbooks to the Mission Committee. With two students sharing one set of books, it is estimated that $10,000 will provide textbooks for all four grades. This one be a one-time capital expenditure, since book replacement costs have recently been added into tuition charges. The Mission Committee's response was positive, but the question was how to raise the funds. Finally, with the concurrence of the Session, it was decided that the May 19 Pentecost Offering would be dedicated to buying a complete set of textbooks, covering the entire curriculum, for all the students in the school. Despite the impoverished backgrounds of its students, Shikokho Secondary has grown into a premier school, with students consistently scoring in the top 30% of the required national exams. It has produced an extraordinary number of teacher, cooperative managers, and other professionals who are serving communities throughout the country, as well as in the local community.

Primary School Recipients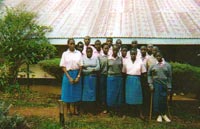 Secondary School Recipients



Students receive text books